On Saturday June 9th 2007 a dream came true for many cartoonists in Puerto Rico when the first 24 Hour Comic Challenge event was celebrated.
The 24 Hour Comics Day is an international celebration of comics creation. Cartoonists all over take the challenge of trying to create a 24 page comic story in 24 straight hours. In 2006 this event was celebrated in 17 countries around the world. The 24 hour comics challenge was created in 1990 by Scott McCloud, leading comics theoretician and author of Understanding Comics and Reinventing Comics. In 2007 this event will take place starting on October 20, 2007.
Local cartoonist Joel (Chiz) Vazquez was the proponent of the idea to do a 24 hour comic challenge in Puerto Rico. Thanks to Jose Esteras, owner of the Red Goblin collectibles store in Cupey Professional Mall we got his store to host the challenge. Paquines.com, Puerto Rico's biggest website focused on comics, animé and science fiction was used to promote the event and contact the artists.
There was so much enthusiasm for the event and October seemed so far away that the idea to do a tryout for the real challenge was born. So on June 9th several cartoonists gathered at the Red Goblin store to see if they could do a comic book in 24 hours and use the experience for the October event. At 2:00 pm the challenge started.
From the puertorrican comic book anthology
Algaro
participated Manuel Carmona, Efraín Morales, Miguel A. Sanjurjo & Joel Vazquez. And from the comic
Zoe's Blues
we had Rosa Colón & Carla Rodríguez.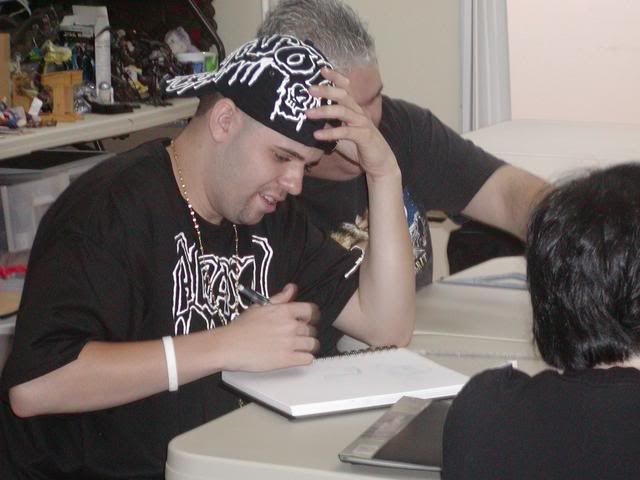 Red Goblin provided us with tables and chairs for all cartoonists and they converted their digital projection room as a sleeping place for the participants. For non-cartoonists Red Goblin setup their projector so that they could enjoy movies and animation series, as well as watch the artists do their magic. The store also had video game machines for rent and that was also a source of entertainment for visitors.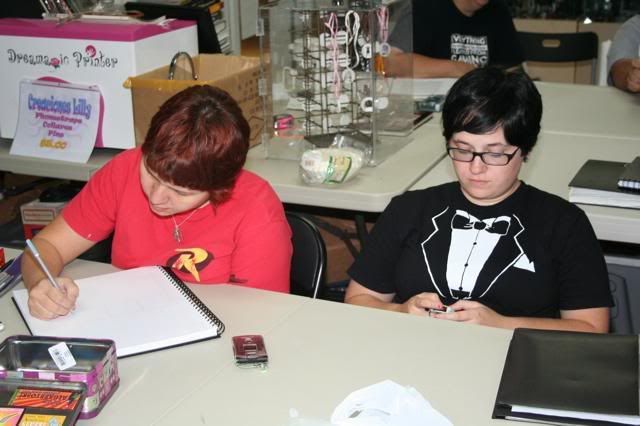 Some cartoonists expressed beforehand that they would only be in the tryout for some hours but they wanted to enjoy the event while they could and be prepared for the October challenge. Other visitors used the opportunity to doodle, as the enthusiasm from the cartoonists was very contagious.
Lots of coffee was consumed and thanks to Red Goblin's fridge and microwave oven everybody was well fed too.
The all nighter was filled with talks about the comic community in Puerto Rico, geek arguments and a ton of laughs !
The first comic was completed at 3:00 am by Joel Vazquez and the second at 8:30 am by Miguel A. Sanjurjo. At 9:30 am the remaining cartoonists expressed their desire to leave, but the experience was a valuable lesson for all. It was such a success that all participants vowed to return to the October challenge. The idea of creating 12 hour marathons was also floated so that more people could participate.
We want to thank Red Goblin for their sponsorship of this event. Photos by Marcos A. Rodríguez and Carlos Torres.